There is so much more to the human being that our physical senses reveal. If we unlock some of our finer abilities we become conscious of aspects of our being that actually assist us to know more the science would have us believe. One of the most astounding things, for instance, is that the heart is not a pump: our blood drives our heart like water drives a turbine.http://wn.rsarchive.org/Lectures/NineBees/19231212p01.html
Man lives in this world in four components or bodies;
physical body – organic processes
etheric or form-giving, life body
astral or action body
the "I" or self consciousness.
These four can bodies can be compared with the mineral, plant, animal and human kingdoms, in that order.
Do we give the I AM authority within ourselves?
Before Christ came to this earth the I Am was kept in heavenly places waiting for the time when mankind was sufficiently mature to receive personal possession it. The Christ event is about the giving of the I AM to mankind. The Human event is working out how to receive it.
….. We must become more and more aware of our "I", we must be able to say to ourselves, "Ah, my "I" took over then in that situation."
….. Our first experience of our "I" is around the age of 3. We stop saying, "Johnny wants a biscuit" and we say "I want a biscuit." By the age of 28. we should have learned to manage our "I" – this is the reason some cultures, especially in the East do not allow marriage until the age of 28. I have observed in my work that a lot of relationships break up when people turn 28.
….. To have power means that our "I" is in control. The "I" really is the new kid on the block, we are still learning how to use this great gift given to us only 2,000 years ago. The astral is mostly in charge within our being. If fact it often masquerades as our "I".
Have you read Kristina's [book http://www.soulquesting.com] I Connecting : The Soul's Quest ?
How to nourish the I AM
Food for the I AM reflection.
Do we have a soul? Where is it and what does it do?
The Soul The soul has three levels; our impulses and instincts, our rationality and logic and our awareness.
The directing force of these three levels is our self, our "I". When we say "I" we can never mean anybody else.
The question is about control. Do we control these levels or do they control us?
The tools of the soul are Thinking, Feeling and Willing. They operate in concert, one playing a solo backed by the other two as required. The conductor is the "I" but is it always obeyed!
"Thinking and 'having thoughts' are not the same." R. Steiner
Here is a diagram * which gives an idea of the processes at work.
Here is another diagram * which explains the difference between the earthly and spiritual expression of man.
We are in control of our life – here's how
What is at work in the soul during communication?
What is the purpose to illness?
Illness, health, death and healing affect the normal course of development of the human being.
What do they contribute: do they advance or retard us in our development?
Man comprises of a physical body which we have in common with all mineral beings in our environment which take their form from the physical and chemical forces within them.
The second member of the human being is the ether or life body. This we have in common with all living things; eg plants and animals.
Then we have the astral body as the third member of our being; our astral body carries our joy and sorrow, pleasure and pain, all the thoughts, emotions, images etc. which flood through us during the day. We have this body in common with the animal.
Man also has a higher member which means that we are more advanced in our evolution than minerals, plants and animals. We have the I AM, the self, our self-consciousness.
When any of these bodies become disconnected or out of alignment illness, disease and death can occur.
Follow the movement of the bodies in waking or sleeping in this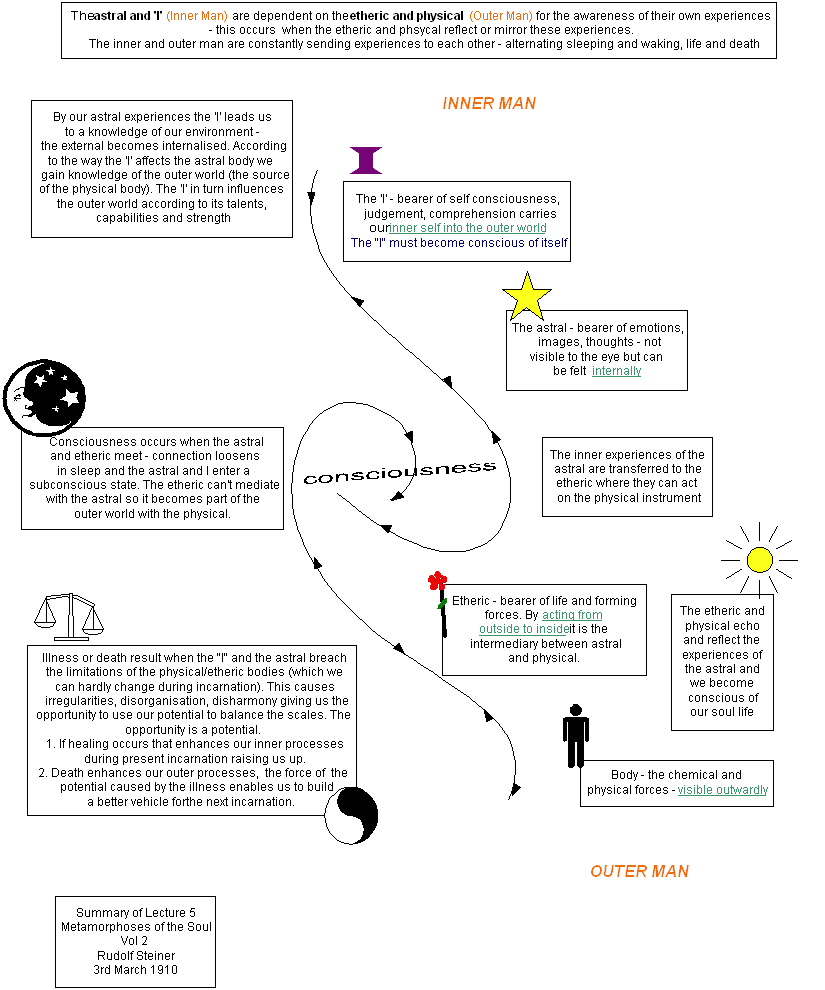 What is truth? What is goodness?
In the 17th Century Goethe gave us a picture of man in the world so simply expressed but deeply metaphysical and esoteric.
A strictly unitary (monastic) world conception is peculiar to Goethe. He sets out to gain one viewpoint from which the whole universe reveals its law structure – "from the brick that falls from the roof to the brilliant flash of inspiration that dawns on you and that you convey." For "all effects of whatever kind they may be that we observe in experience are interconnected in the most continuous fashion and flow into one another."
A brick is loosened from a roof. We ordinarily call this accidental. It hits the shoulder of a passer-by, one would say mechanically, but not completely mechanically; it follows the laws of gravity and so its effect is physical. The torn vessels of living tissue immediately cease to function; at the same moment, the fluids act chemically, their elementary qualities emerge. But the disturbed organic life resists just as quickly and tries to restore itself. In the meantime, the whole human being is more or less unconscious and psychically shattered. Upon regaining consciousness the person feels ethically deeply hurt, deploring the interrupted activity of whatever kind it might have been, for man will only reluctantly yield to patience. Religiously, however, it will be easy for him to ascribe this incident to Providence, to consider it a prevention against a greater evil, as a preparation for a good of a higher order. This may be sufficient for the patient, but the recovered man arises genially, trusts in God and in himself and feels himself saved. He may well seize upon the accidental and turn it to his own advantage, thus beginning a new and eternally fresh cycle of life.
Reflections Every week I write a short reflection. If you would like to receive these please email using the email link.