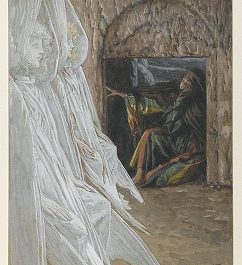 The 14 Stations of the Via Lucis – The Way of Light or the Path to the Resurrection – Station 1
We have entered the period of resurrection, a path we can walk until we reach our destination at Pentecost on 20th May 2018. It is because of light that our physical eyes can see, and during this period of the birth of light, our spiritual eyes will see the true substance that sustains our lives in this world. As we walk through the bible texts that speak of the resurrection journey it is obvious that that it all depends on our ability to see. For this we need a "live-giving spirit."
The process of resurrection contains many mysteries. I wrote about this extensively in my series "Who is Jesus : What is Christ?"
"This is what St Paul means when he says: Thus it is written, "The first man Adam became a living being"; the last Adam became a life-giving spirit. 1 Corinthians 15:45
We will take on the resurrection body and become a life-giving spirit. We can choose to start doing this now. The only way to do it is to work with the images that come to us. Listen to Christ speaking these words to us, "See my hands and my feet, that it is I myself; handle me, and see; for a spirit has not flesh and bones as you see that I have." He doesn't say "I myself" however, he says I Am, ego eimi. This is a real body, the body of the I Am. It has the exact same form as we have without the physical density." Who is Jesus : What is Christ? Vol 5 by Kristine Kaine
1. Jesus Rises From the Dead April 1
Now after the sabbath, toward the dawn of the first day of the week, Mary Mag'dalene and the other Mary went to see the sepulchre. And behold, there was a great earthquake; for an angel of the Lord descended from heaven and came and rolled back the stone, and sat upon it. His appearance was like lightning, and his raiment white as snow. 4 And for fear of him the guards trembled and became like dead men. But the angel said to the women, "Do not be afraid; for I know that you seek Jesus who was crucified. He is not here; for he has risen, as he said. Come, see the place where he lay. Then go quickly and tell his disciples that he has risen from the dead, and behold, he is going before you to Galilee; there you will see him. Lo, I have told you."
It is interesting to read how each of the Gospels records the resurrection. In Matthew the two Marys spoke to an angel who had rolled back the stone and was sitting on it. In Mark they went into the tomb because the stone was rolled away and spoke to "a young man sitting on the right side, dressed in a white robe." In Luke they again entered the tomb and this time spoke to "two men [who] stood by them in dazzling apparel." In John, they came to the tomb, spoke to no one, and immediately went to tell the disciples.
The difference in what took place can be an indication of different levels of consciousness. Broadly speaking we could call it clairvoyance, but can we identify what kind of clairvoyance it is? It might be better to call it spiritual perception which changes as we raise our consciousness. Spiritual perception is directly linked to our spiritual development. It begins with our ability to think clearly and to use logic, applying this to the truths we encounter. Not just once but repeatedly to test and retest our ideas and strengthen them. Then we have access to different levels of spiritual insight which is one way of explaining the difference in these descriptions.
The Marys represent aspects of our soul; they point to the development of our feeling, thinking and willing as we begin to use them more consciously and engage our I Am in the process. When we begin to raise our awareness and catch spiritual glimpses rather than soul glimpses, the first stage is referred to as Imagination which is signified by the presence of angels. Angels are intermediaries assisting us to adjust our perception beyond the physical. St Matthew describes it in this way: "And behold, there was a great earthquake; for an angel of the Lord descended from heaven and came and rolled back the stone, and sat upon it. His appearance was like lightning, and his raiment white as snow." Mt 28:2, 3 The Holy Spirit is also associated with the Imagination level of our spirit.
St Mark's young man represents the second stage, which is Inspiration, where we commune directly with Christ. St Luke's two men represent the third stage of Intuition and the Father. These two men in their dazzling apparel, who frightened them so much they bowed their faces to the ground, could also be the Guardians of the Threshold. Who is Jesus : What is Christ Volume 5 by Kristina Kaine
Available on Amazon