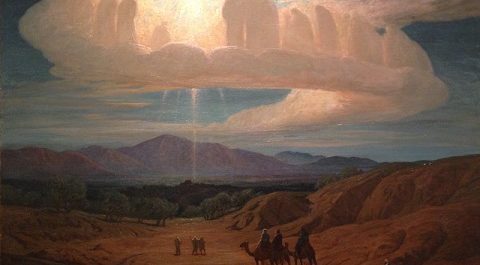 Background to the Holy Nights
Indications given by Rudolf Steiner to Herbert Hahn for the Twelve Holy Nights
On December 24th the 12 holy nights begin.
The 12 holy nights are symbols for the 12 forces of the soul that live in us. And so this indication is valid forever, not only for the 12 holy nights.
On January 1 at noon we have the Sun as close as possible to the Earth and that is why there are just five and half days before and five and a half days later, which is the time of the 12 holy nights.
On these nights, the darkest of the year, we are closest to the Sun's Spirit and this means that the Spiritual Sun shining from inside the Earth makes it translucent and illuminates everything from the inside, not as it is afterwards when the Sun illuminates the Earth from above, from the outside.
You have to enter these 12 holy nights wide awake and very conscious. It is important that the first night (Dec. 24th) we only stay awake until one or two in the morning. On the other nights, if possible, try to go to bed regularly at the same time, it is of principal importance to live in a regular rhythm at this time, if this is not possible in the active life, one has to try to do so internally; Those who cannot be silent in the external life should seek constantly to be inwardly aware of the sanctity of the time. It is important to perform daily duties without losing sight of this realization, of the sacredness of the time, allowing nothing unhealthy, no ugly movement to enter the soul, remaining always attentive and severe on oneself in this regard.
During the experience of Christmas, with its 12 holy nights, we sow the seed for the next 12 months. Therefore these 12 days are important, if for example we make mistakes on the first day, we lay a seed, which, in the first month, will germinate negatively in the blood.
We must try to pass the 12 holy days properly, according to the Law, because we need each year to work on our rebirth and we cannot lose any year.
Regarding the translation: The first 4 years were based on a rough translation revised by John Barnwell. 2011-12 In 2015 Laura Zanutto acquired the original German text and translated it using Google, adjusted by Laura and tweaked by Kristina Kaine. In 2016 Mark Willan further sharpened the translation.