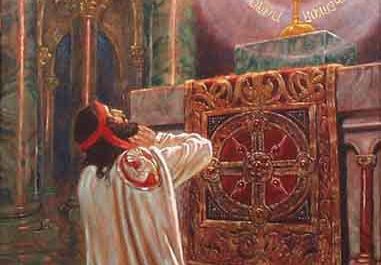 Holy Night 5 applied to May
December 28-29 – Taurus
Consciously purify the body of thought.
Discipline thinking. Concentrating on the positive. Converting the black doves of thought into white doves, because our thinking is, until it is not consciously conducted with discipline, like a dovecote! Keep this dovecote closed against foreign, negative thoughts.
Mystery: The purification of the temple by Jesus Christ.
Rudolf Steiner's indications for the Holy Nights given to Herbert Hahn
Translation from German by Laura Zanutto 2015 adjusted by Mark Willan 2016
Heilige Nacht
28./29. – Stier
Bewusst den Gedankenkörper reinigen. Gedankenzucht. Konzentration auf Positives. Umwandeln der schwarzen Gedankentauben in weiße, denn unser Denken gleicht, solange es nicht bewusst in Zucht genommen wird, einem Taubenschlag! Diesen Taubenschlag auch schließen vor fremden, negativen Gedanken.
Mysterium: Die Tempelreinigung durch Jesus-Christus.
Fifth Contemplation: Kristina Kaine
2020
Our task is to become conscious of the presence of Christ in our body, soul and spirit. He will weave into these differently for each one of us. The place to begin to understand this is through thinking. We can begin by thinking about how Christ works within us. In the simplest way we might ask what Christ thinks about a thought we just had. It could be an angry thought about something someone said to us. Do we criticize them (black dove) or feel compassion (white dove) for them?
Another way to think about how Christ works within us is to acknowledge that love is always at the heart of Christ's activity. This love is the highest love which the Greeks call agape. It is not physical love, brotherly love, or love of country, it is a pure love that rises and overrides what pleases or displeases us. Through our thinking we find reasons to think about how we can love a person regardless of what they have said or done.
If we devote ourselves to the task of thinking about how we can love more, the forces of love become enlivened. If they come from a heart of absolute purity they also have the capacity to draw to themselves forces of love from our surroundings. This, of course works both ways, on us, and on those around us. Stop for a moment and think about the effect of this, not just in our own environment, but on the whole world. This, of course, is where the incarnation of Christ into the body of Jesus is leading us. Think about that mighty Cosmic being's journey from beyond the beyond, through the Spiritual Hierarchy, and into the temple of the human body to purify it.
Art: Amfortas Vision by Franz Stassen
Available on Amazon:
The Holy Night Reflections written between 2011 – 2016  https://www.amazon.com/gp/product/B01M730YAV/
Reflections written between 2016 – 2021 https://www.amazon.com/gp/product/B08SBMRY7L/