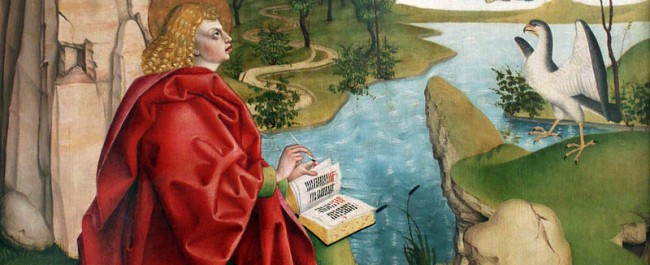 Holy Night 2
December 25-26 – Aquarius
Night of John. The Eagle of the soul climbs high with its wings and looking back from a great height, observes its own life. And now the man recognizes the Laws of Karma.
The Mystery: Choosing the narrow and difficult path or the path that is wide and easy.
For those who are born of flesh it is hard to find the path of the spirit.
Bhagavad Gita: A selfish life, or a life devoted to humanity?
R. Steiner
Second Contemplation: Kristina Kaine
The Night of John means the Night of Love for John is Love. What greater love is there than the love for the child in our soul? John saw this, he didn't see his earthly short comings. To see our shortcomings is to be overwhelmed by our karma which defeats it's purpose.
How do we see the spiritual in us, in others, and in everything? The artist Sigmund Gleismüller had deep insight when he painted John gazing at Mary-Sophia while grounded in the physical world accompanied by his symbol the eagle. This Imagination teaches us how to Imagine the spiritual reality in us and around us.
Through our Imagination we can achieve the perspective of the eagle and then we will gaze on our own life as if we were viewing someone else's life. We become lovingly objective and compassionate. This reminds us that spiritual beings accompanying us every step of the way. If we don't do this we are born of flesh. Flesh becomes the reality as it disguises the spirit. We forget that we are beings of spirit and soul – our flesh is simply our cloak.
When we step into the living Imagination that reveals to us that we are beings of soul and spirit we enter into a new reality. We value every person me meet. We stop looking at their physical appearance, their clothes and their physical expressions – which is simply the cloak of their karma, and we begin to see their spirit. When we see a person's spirit they are changed. They feel recognised for who they truly are. We could even say that unless we see the spirit, it remains hidden. Seeing the spirit in each other means that we are devoted to humanity in all it's potential.
Image: John the Evangelist on Patmos, 1490 Sigmund Gleismüller (1449-1511)