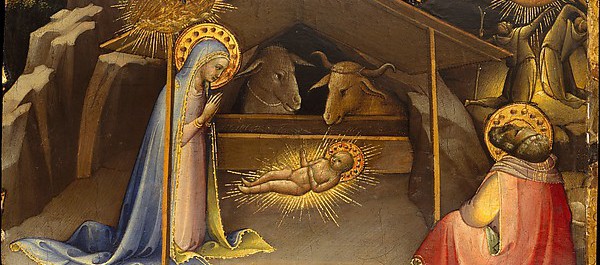 First Holy Night applied to January
The 12 Holy Nights sow a seed for our progress through the year ahead. Our sole purpose on this earth is to become aware our I Am, our True Self. By applying each of the 12 Holy Nights to each of the 12 months through the year we come closer to knowing ourselves more completely. In its highest expression our I Am becomes one with Christ who accompanies us each step of the way.
"The true name of Christ is "I Am"; who does not know or does not understand this and calls Him by another name does not know anything about Him. "I Am" is His only name." Rudolf Steiner 27 May 1909
December 24-25 – Capricorn
This Holy Night is the night Christ is born in the soul and the soul asks: "Can my soul become liberated, saved, redeemed with all my weaknesses and flaws and passions?"
Symbol: The stable of Bethlehem in poverty and humility in which would be born the Light of the World. The voice of silence enters the soul and teaches one to affirm with joy the good that is found in ourselves and in others.
The soul seeks the mystery in a dark and trackless forest.
The Divine Spirit is born in Matter; the Alpha and Omega touches and creates life.
R. Steiner (Indications given by Rudolf Steiner to Herbert Hahn for the Twelve Holy Nights)
First Contemplation: by Kristina Kaine
This is the night we are shown the mystery of who we really are. Do we dare to look upon the dazzling purity of the Christ child? The angels surround us to give us the courage and immediately we realize how far we are from this perfection. Yet it is this experience of powerlessness that awakens us so that we can hear the reassuring voice of silence.
No matter how small and insignificant we feel we can know with all certainty that Christ lives within our soul. As we contemplate the infant in the manger so we are contemplating our own soul in all its glory. The child waits for us to acknowledge his presence within us. In fact, we could ask if he has really been born at all if we do not acknowledge him in our soul in every moment of our lives. Whatever we face in life, whatever encounters we have, we can be sure that Christ is within us and within everyone we meet. This Divine Spirit is born in matter and dwells here like a seed; the Alpha and Omega, the first and the last.
Through the twelve holy nights we plant the seeds for the coming year. May this holy birth be a reality in each one of us, and if so, we will change the world as He did 2000 years ago.
Image: The Nativity by Lorenzo Monaco 1406-10