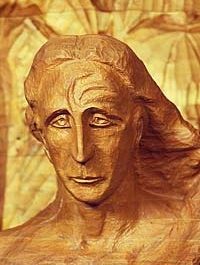 Speak to Christ, he will answer
Many of us struggle to understand the troubling times we live in. It seems that every kind of violence is not only escalating but it is more brazen. What are we to make of this?
One thing is for sure, we should not respond with fear and judgment. Compassion and love are called for, always mindful that the king and shepherd of this world is guiding us forward. Why is he doing in this way? Well, as Rudolf Steiner explains, we should ask him.
"Why do we study spiritual science [Anthroposophy]? We do it to learn the vocabulary that we need to draw closer to Christ. […] we need to learn to find in that language the questions we can address to the Christ. He will answer; yes, he will answer!"
Rudolf Steiner. Building Stones for an Understanding of the Mystery of Golgotha
Image: The head of Christ carved by Rudolf Steiner