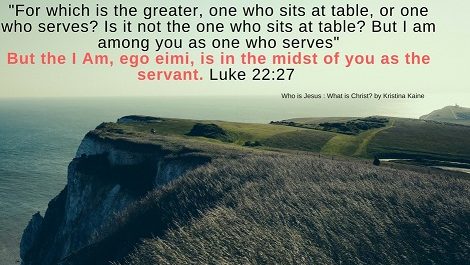 Our I AM is our servant
Do we realize that our I Am is our servant? What does this mean in our lives?
"For which is the greater, one who sits at table, or one who serves? Is it not the one who sits at table? But I am among you as one who serves." Luke 22:27
It astounds me that this Bible really says. When we incarnate we "sit at table" – a table is a physical item in this material world. Our Higher Self, our I Am which remains in the spiritual world and manifests in us as a mirrored image, serves us in every way possible. It's aim is for us to perfect ourselves more during each incarnation, in the interest of overall perfection in the end.
Here is what I wrote about this Bible passage in my book "Who is Jesus : What is Christ? Vol 5"
"There are at least five words in the Greek for servant, each one indicates who is being served and how. Here the word servant is diakonos. It speaks about serving each other, to assist each other in any way we can. It carries with it the notion that if we can be more aware of the ways in which our behavior is influenced by karma, in that awareness we moderate our behavior.
Jesus says, "rather let the greatest among you become as the youngest, and the leader as one who serves." Why compare the greatest with the youngest and the leader as the server? We are given a clue in the next verse when he says "But I am among you as one who serves." This verse should read, 'the I Am, ego eimi, is in the midst of you as the servant."
Blessings on your work.