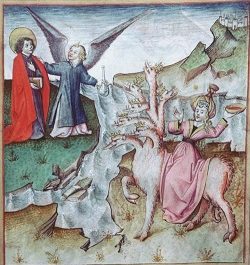 Does Your Soul Fornicate?
"Human Beings have to develop individuality, which is as yet tenuous and feeble. Nothing we do is only due to us, but the awareness of all we think, feel and will, this alone is due to us." Karl Konig "The Grail and the Development of Conscience." Lecture given in 1954
"Awareness of all we think, feel and will" motivates all that I write. It is the foundation of my book I Connecting. I have found many texts in the Bible that explain why we need to become aware of how we think, feel and will, and what happens if we don't. This is what I wrote in my book "The Virgin and the Harlot" an exploration of the last book in the Bible, The Revelation.
Read the text which begins "And to the angel of the church in Per'gamum write:" Rev 2:12-17
"At this stage in the evolution of consciousness we are able to become more conscious of our soul's activity. At the same time, more and more philosophies try to teach us to influence this activity in an unnatural way. Instead of encouraging us to become more conscious of our soul's processes, these philosophies give us tricks to manipulate our soul. Those who can manipulate their soul best are those whose connection with their 'I' is just beginning, they are drunk on the power of it and this results in immorality, porneuo – fornication. Fornication happens when the wrong soul forces have intercourse with each other.
There are many ways that this can happen. For instance, if we are making a decision to do something; we begin by infusing our thoughts with a certain amount of feeling to confirm that our thoughts are right. But if will enters into the process too soon we can act prematurely. If strong feelings arise within us which 'fornicate' with our will we can act without thinking.
These are the stumbling blocks that prevent us from purifying our soul so that our 'I' can take its rightful place in our being. It is a process; it can't happen at once just as a seed cannot burst into flower." Kristina Kaine, "The Virgin and the Harlot.
Illustration form The Apocalypse of Lyons dated between 1445 and 1450