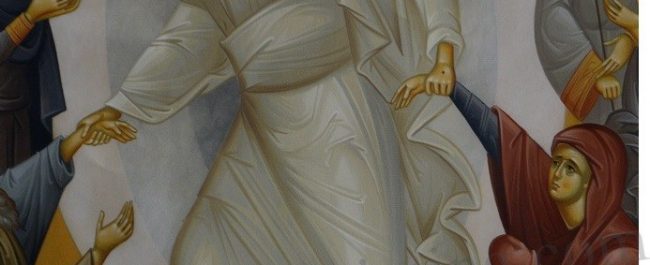 14 Stations of The Via Lucis – The Way of Light- Station 6
6. The Risen Lord Appears to His Disciples
As they were saying this, Jesus himself stood among them. But they were startled and frightened, and supposed that they saw a spirit. And he said to them, "Why are you troubled, and why do questionings rise in your hearts? See my hands and my feet, that it is I myself; handle me, and see; for a spirit has not flesh and bones as you see that I have." And as He said this, He showed them His hands and His feet" And while they still disbelieved for joy, and wondered, he said to them, "Have you anything here to eat?" They gave him a piece of broiled fish, 43 and he took it and ate before them. (Luke 24:36-43)
In my series Who Is Jesus : What is Christ? Vol 5, I put forward these ideas.
"We cannot begin to understand the resurrection unless we understand the true nature of the phantom body. Rudolf Steiner explained it in quite some detail which can be accessed on the Rudolf Steiner Archive website.
It was through Luke's use of the word 'vanished', aphantos, that our attention was drawn to the wonder of the phantom body. Luke said that Christ who manifested in his phantom body, stayed the night with the two who met him on the road, took the bread, blessed it, broke it and gave it to them, which opened their eyes so they recognized him: "and he vanished out of their sight." In other words, they saw him in a different form, the form of the phantom.
Alfred Heidenreich, in his lectures entitled, "The Risen Christ and the Etheric Christ" says, "Steiner used a special phrase for that particular reality of the resurrection body. He calls it the Phantom of MAN. He makes it quite clear that the Phantom is not an etheric body but the reconditioned spiritual essence of the physical body. The Risen Christ can materialize and de-materialize this "Phantom" at will."
We could describe the phantom body as the spiritual form of the physical body – but not a spirit, just as Luke reports. It is the human body which has no physical substance. We know that everything we eat forms our flesh; if we eat too much we have too much flesh and so on. Perhaps we could describe the form of the phantom as a transparent matrix and this matrix is directly connected to the I Am. It is actually the I Am's body which incarnates at times, and is discarnate at other times."
Byzantine Icon : Resurrection of Christ