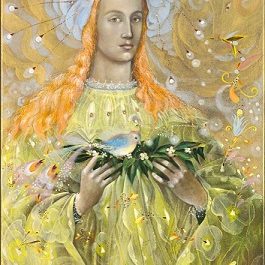 How to tell if you are dead or alive
The last book in the Bible is an extraordinary document. Mystifying to those who cannot unlock the simple code in which it is written. I studied it in detail and wrote about it for 3 years and it changed me. Here is a snippet.
"And to the angel of the church in Sardis write: 'The words of him who has the seven spirits of God and the seven stars. "'I know your works; you have the name of being alive, and you are dead. Awake, and strengthen what remains and is on the point of death," Rev 3:1-2
Whenever we grow a plant, even though we usually know what kind of flower it will have, there is always wonder associated with our first glimpse of the bloom. This sense of wonder should be part of the fifth stage in the development of our consciousness – the Sardis stage. Here we reach a culmination; we are given the opportunity to experience the fruits of our labour. The thing about becoming more conscious is that we immediately realise just how unconscious we are. This should not discourage us.
On the other hand, when we bloom we can also be tempted to think that we have achieved our goal and this would be why the mighty being says "you have the name of being alive, and you are dead." Oh, thanks a lot! After all that effort, pushing out of the seed, shooting and rooting, strengthening the stalk and producing beautiful leaves, followed by a healthy bud which has finally bloomed we are told that we are only pretending to be alive. Yet we must remember that it is the work that is the point of it all. The bloom is not the point of it all; the bloom, although a thing of beauty, simply produces seeds for the next stage of development.
How often do we get discouraged on this path of development that we walk? How often are we disappointed with our own progress? The pain of failure, the sadness and disappointment only intensifies as we become more conscious simply because we can see so much more. This is why the symbol of the church is used. It doesn't mean a church building it means the ekklesia, the body of forces and impulses that constitute the being of Christ. Our only comfort will come from the firsthand experience of this ekklesia. We are in it, and it is in us. This is what we must awaken to. Whenever we experience disappointment, pain or alarm in our soul we must use our imagination to become awake to the ekklesia that we are part of."
The Virgin and the Harlot: Secret Guide to the Apocalypse or in 2 vols The Soul's Secret Unveiled in the Book of Revelation
Painting by Annael Pavlova